Aadu Oru Bheegara Jeevi Aanu Malayalam Movie Review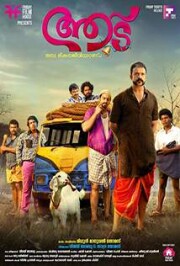 Overview of Aadu Review
Cine Shore Rating:
2.0 Skip It.
PLOT – Aadu Oru Bheegara Jeevi Aanu Malayalam Movie
Shaji Pappan (Jayasuriya) and his team wins a goat in a tug-of-war competition, which leads them to a series of troubles. How they go through these and where things end, forms the rest of the plot.
PERFORMANCE – Aadu Oru Bheegara Jeevi Aanu Film
Though Jayasuriya dons a new avatar his role is the same we have seen a plenty of times. Apart from few comedy numbers there's nothing remarkable about him. There's a row of supporting cast from Vinayakan, Indhrans, Saiju Kuruppu etc but everyone are literally wasted. Few characters like Sandra Thomas and Chemban Vinodh gives you certain irritations too. Only Dharmajan offers some relief in the form of some timely one liners.
STORY – SCREENPLAY – DIRECTION - Aadu Oru Bheegara Jeevi Aanu
Really…? Is there any story in the movie. Leave about that even the plot looks silly and one questions whether why they set out to make a film like this. Dialogues are written to evoke laughs but most of them goes aimless and the result is again the pain for audience. One may even ask whether this is scripted by the same Midhun who wrote the light and sweet On Shanti Oshana last year. His debut as a director with this one fails big time other than for few and far scenes.
TECHNICAL DEPARTMENT – Aadu Oru Bheegara Jeevi Aanu Malayalam Film
Cinematography of the movie is quiet good and a couple of areal shorts are impressive. Shaan Rahman after giving a decent album tries a lot with background scores by composing one each for every character. But that becomes repetitive after a point. Editing is ineffective while.
ANALYSIS – Aadu Oru Bheegara Jeevi Aanu Malayalam Movie Review
Nowadays it has been easy for young Malayalam filmmakers to make a movie with a wafer thin plot by putting few one liners and style. Aadu, is no exception where the director tries to run the movie with the help of funny characters and dialogues. On the other side he even tries to impress the audience with some slow motion shots and style. To an extent it was average in the first half even though nothing hooks you. But the second half falls flat and scene by scene it turns out become a dud. Disappointing.