Oppam Crosses 50 Lakhs Mark At Aries Plex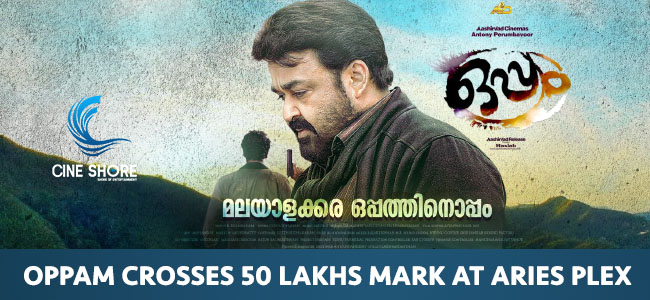 In its excellent run, Oppam has registered one more unique record. The film has crossed 50 lakhs at the prestigious Aries Plex in Trivandrum, thus becoming the first ever film to do so. It is the same theatre where Baahubali did more than 2.50 Crore and that is the highest so far. With bigger ticket price from 200 to 500 varying from weekdays to weekend the biggest screen, Audi 1 here needs half the footfalls of a normal big capacity single screen to put a gross more than that. But, to put that amount to watch a film, there needs to be some merit for that movie and we can't just leave the credits for the pricing only.Oppam, with positive word of mouth and holiday factor, performed excellently here and with good amount of shows 50 lakhs was a cake walk for the movie. Trivandrum district is the strongest citadel for Mohanlal and that too can be seen from the performance of films like this. Previously, Baahubali and The Jurassic Park were the best performers here as this screen appeals for such event films and Oppam's performance here is excellent when you consider the limitations it have. With the film doing excellent business here, the total Trivandrum city gross will stand tall at the end and it will stand the second best, next to Ernakulam where it do more than 2 Crore easily as plexeshere also remaining strong.
Meanwhile, the film has done an impressive business of 21.45 Crore in 16 days from the state and is marching towards few top grossers of Malayalam Cinema so far. At last a blockbuster indeed for Mohanlal and Priyadarshan who were looking very badly for such a success after too many criticisms for their poor selection of movies. Now the question is whether, it can stand the test for the next few weeks so that the 30 Crore mark is reachable.