How Much Will Producer Tomichan Mulakuppadam Earn From Pulimurugan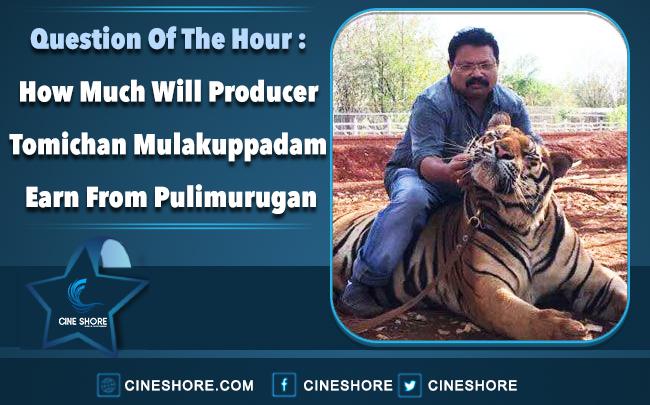 Ever since the Mohanlal starrer Pulimurugan has set the box office on fire, discussions are on about the films revenue and the kind of business the producer Tomichan Mulakuppadam is sett to do. With too much stakes on the magnum opus it was more like a do or die situation for Tomichan who invested around 21 crore business including the print and publicity expenses. Right from then, it has been a game of only risks for Tomichan who started generating revenue even before the release of the movie. We have tracked down the pre-release business of the movie including the most important satellite prices.
The satellites were sold early by the makers which would have made them a little bit disappointed now as it could have been even better if it was sold after the films grand success.
Here's the budget and the economics break up of Pulimurugan till date.
---
Budget : 21 Crore. [Including print and publicity]
Satellite : 9 Crore. [ASIANET - All Time Record Price]
Outside Kerala Rights
---
U.A.E : 2.20 Crore. [Phars Film- All Time Highest Price]
Rest of India and Rest of the World Total : 4.55 Crore. [All Time Highest Price]
---
Total Pre-release Business : 15.75 Crore.
---
With huge stakes involved Tomichan sold rest of Kerala territories for outright and that might have left him feel a bit costly as most of the distributors are raking big profits from the movie which makes it as an undervalued business from the producers point of view. But on the other hand Tomichan is earning a dream revenue from Kerala theatricals which has already gone past a share of 20 Crore. The film is still showing big potential with steady run and collections from almost all the release centres in Kerala.
In short Tomichan Mulakuppadam will earn a revenue of more than 40 crore from Pulimurugan at the worst case scenario which means almost double his investment. Now that's a rare feat for a movie which is the most expensive film till date. More to Come.