Charan's Bodyguards Attack 2 People In An Unnecessary Street Brawl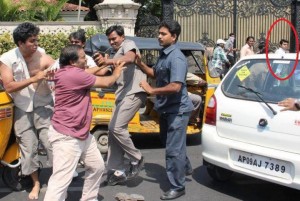 Ram Charan is known for his affluent attitude, and another example of this was seen recently. While travelling in his swanky car, his vehicle didn't get a leeway despite giving signals from bodyguards to do so. A frustrated Charan ordered his bodyguards to have a go at the 2 people who were software engineers. This incident was captured in a mobile phone by one of the witnesses and was released few days ago with the visual and print media immediately taking it up as a serious issue. Despite the controversy blowing large, the police have said that they
haven't got a complaint as yet in this matter.
The incident happened on the busy roads of Banjara Hills on Sunday. Charan was travelling in his flashy Aston Martin. When traffic became heavy, his car couldn't get the space due to an alto (in which the 2 software engineers were travelling). Frustration turned to madness in a while as Charan sent his men to have them threatened and then attacked. Charan's attitude hasn't impressed everyone always, but this incident means that his popularity could take a severe beating
.