Welcome To Central Jail Final Collection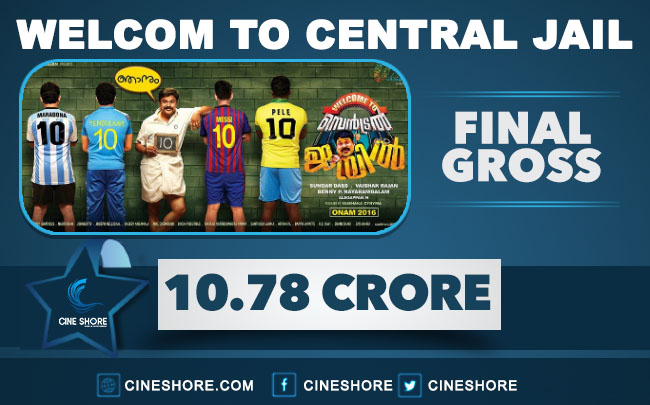 Dileep's Onam release has finally come to and end in its business. While the B and C run is going on the DVD's too have hit the market. Though the film has bashed by the critics and social media Dileep once again single handedly carried the movie to become a Hit at the box office. The film, which was finished at a moderate budget saw Dileep and his Sringaravelan heroine Vedhika and many comedians being a part. It had a not so good opening during the opening weekend as it was hit by Pre – Onam but the brand Dileep came into force once the vacations began. The family audience came into the picture with the holidays and interestingly, it was the medium and small centres which performed well for the film. While Trivandrum went steady, a centre like Ernakulam were word of mouth matters, remained low in occupancy.
Malabar also fared decent for the film during the vacation period and everything was solely because of Dileep's hold among family audience. It was Oppam which lead the Onam pack undoubtedly and Oozham took the second spot. Welcome to Central Jail followed it with its share of business even though it had the weakest reports among all the releases. If it was the main centres which performed well for Oozham, it was the other centres for Welcome To Central Jail. At the end of its final business Welcome To Central Jail has grossed a good 10.78 Crore. The distributor share of the film is around 4.50 Crore approx and it may be just above that according to the final terms between the distributor and theatres. This is Dieep's third consecutive success at the box office from 2 Countries which includes King Liar is too barring the Adoor Goapalakrishnan directed offbeat flick "Pinneyum". Now all eyes are on his next project "Georgettans's Pooram" which is up for a Decemeber – January release.
Gross : 10.78 Crore [Final][Kerala]
Verdict : Hit.