Vismayam 21 Days Collection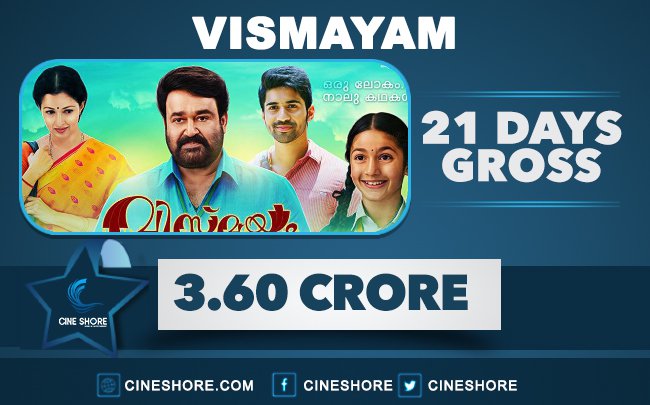 Vismayam, the dubbed version of Manamantha has almost ended its business in Kerala and it is not that happy news for Mohanlal who came into big screen after 9 months. Least was expected from a dubbed movie, but the initial word of mouth showed some promise in the favour of the movie. But still looks like the audience was reluctant to go to theatres due to the 'dubbed film' label. Directed by acclaimed director Chandrasekhar Yeletti, Vismayam a.k.a Manamantha's fate was same all over from Overseas to Andhra Pradesh – Telangana. Same is the case with Kerala. Both Telugu and Malayalam versions got appreciation from audience and critic alike, but it was not enough to convert into box office. For Telugu audience, it was more like an off – beat flick and for Keralites a dubbed film. These things have hampered the business opportunities of the movie, despite of the encouraging reports. The 3 weeks gross of Vismayam now stand at a poor 3.60 Crore. It was released for commission by Maxlaab here and they won't loseanything. But as a Superstar film the business is so poor. The opening was quite decent with major stations off to a promising start, butweekdays went to low levels of collection and there wasn't much chance for the movie from there. The final nett is around 2.85 and the share is around 1.55 Crore.
Gross : 3.60 Crore (Kerala)[21 Days]
Verdict :- Average.