Thoppil Joppan First Day Collection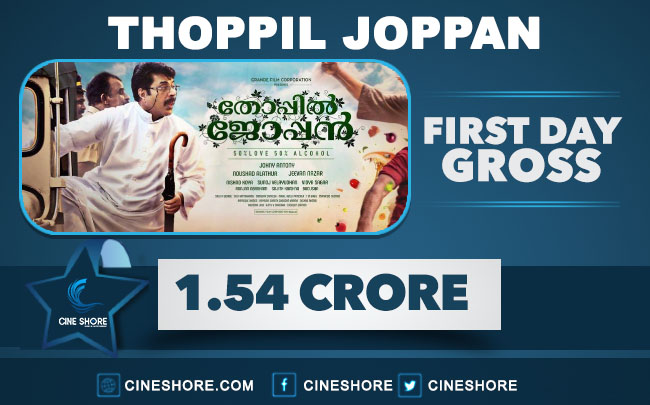 The other release of the big day, Mammootty's Thoppil Joppan has taken a good opening at the box office with the help of solid evening and night shows. The film earned decent buzz before the release mainly due to the promos which gained attention in social media. Moreover, there were some expectations from Mammootty and Johny Antony combo which have a couple of decent hits in the past. The 'Achayan' avatar of Mammooty has also paid quite well in Central Kerala where it earned best figures when compared to others.It was a weak zone for Mammootty in the recent past, but Kasaba and now Thoppil Joppan has opened well and interestingly, both the roles of Mammootty were 'Achayan'. Though it was expected that Pulimurugan mania would eclipse this one, it actually helped ThoppilJoppan as there was enough publicity from the media projecting the clash of the titans after months. There was an initial pull from the fans too, as they wanted to hold their film due to a strong opposite. These are actually small but important factors when it comes to clash between two top stars in any industry provided a decent buzz. The first day gross of the film is around 1.54 Crore, which is slightly above Mammootty's last year's rules 'Bhaskar The Rascal'.Joppan had more shows than that, but the occupancies were way above for Bhaskar The Rascal. Distributors share is said to be around 73 lakhs and that is pretty impressive when you consider the clash with a record breaker 'Pulimurugan'.
Gross : 1.54 Crore [First Day]
Verdict : Good Opening.