Thoppil Joppan 28 Days Collection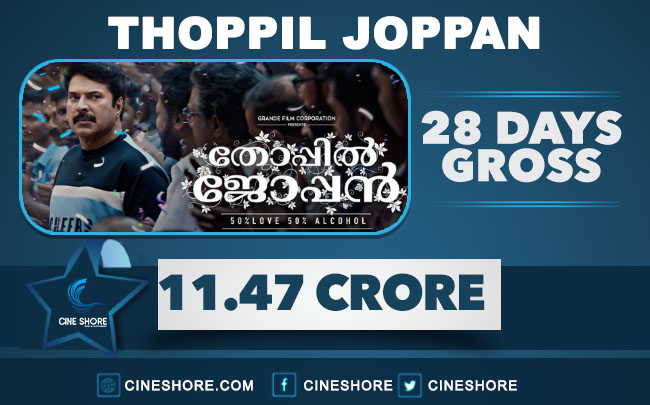 Thoppil Joppan 4 Weeks [28 Days] Collection.

Mammootty's latest film Thoppil Joppan is coming to its end as its snailing right now. Released for Pooja weekend, Thoppil Joppan had a good opening day followed by a similar weekend, with its business growing well over Sunday and the Pooja holidays. At the end of its 5th day the film made a gross just above 7 Crore. The holiday period, family appeal and the decent reports among the target audience give the movie a stay during the initial week despite of a rare performer like Pulimurugan in opposite.The collections saw a huge drop after the second weekend and by then Thoppil Joppan has consumed its target audience soon with the help of the holiday period. But that was enough from the business perspectives of the film, which was finished for a moderate budget. Further, it grossed a total of around 10.60 Crore at the end of its 2 weeks. It was a rather an average second week for the movie that too because of the respectable figures from the second weekend. There was a further drop from third week and the movie after its 4th week, i.e, 28 days have grossed 11.47 Crore from Kerala which is less than 1 Crore from the third and the fourth week. Nevertheless, it doesn't bother the producers and exhibitors who have recovered their investments on the movie, thanks to the holiday period. The best business for the film came from Central Kerala surprisingly where Mammootty has been a quiet week of late. Ernakulam and Kottayam have been the best contributors at this territory and it was the South belt which followed the Central area.It couldn't perform as expected in Mammootty's strong zone. Malabar area probably because of the Pulimurugan mania. Still, it was a decent performance by Joppan in this territory too, if the overall picture is taken in. Though not a big winner, Thoppil Joppan is another hit for Mammootty this year after Kasaba which too trended likewise after a huge opening.
Gross : 11.47 Crore [28 Days][Kerala]
Verdict : Hit.