Thoppil Joppan 14 Days Collection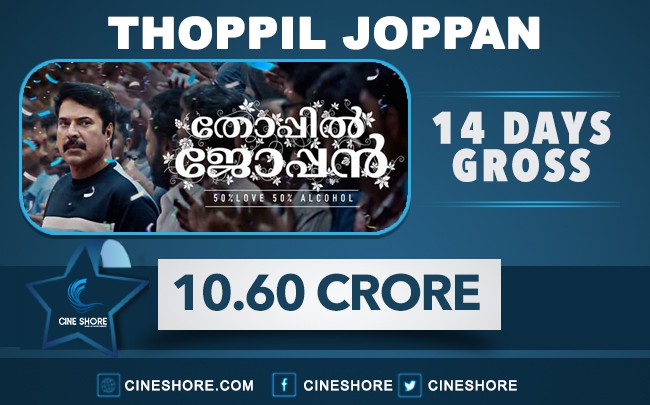 Mammootty's Thoppil Joppan dropped big time after the initial week which comprised of 4-5 holidays. The film actually benefited from the clash gaining attention of audience and that helped in the opening for the film. It performed well during the weekend mainly due to the holiday period and sustained over the Monday and Tuesday. But the film dropped to 50% level once the holiday period was over as it consumed its audience very soon. A sudden drop was seeing coming as it performed that well during the initial days which was above its word of mouth range. But that itself was all relief for the makers who finished it at just less than 6 Cr after print and publicity expenses too. The 5 days gross were above 7 Cr and after the 2 weeks it has done a business of around 10.60 Cr. The film's distributors share has gone past 4.50 Cr mark and it will earn a few more lakhs after its final run. Nothing is expected from Thoppil Joppan from this point too but the makers and fans will have a sigh of relief as it has sailed past the safe zone at least.
It was actually the Central Zone which contributed more for the film during its performed days and Kottayam, Kochi districts held well during that. This is actually a weak area for Mammootty if you look at his recent films performances but Thoppil Joppan somehow performed decent due to the "Achayan" factor. Taravancore area followed Central were also it earned respectable figures. But Malabar performed below par when compared with other key areas. Usually Mammootty films performs well here but this time around Pulimurugan wave took the Malabar area for a ride and that effected Thoppil Joppan there. This has been the second 10 Cr grosser for Mammootty this year after his mass masala Kasaba which came for Eid.
Gross : 10.60 Cr [14 Days]
Verdict : Hit.