Pulimurugan 28 Days Collection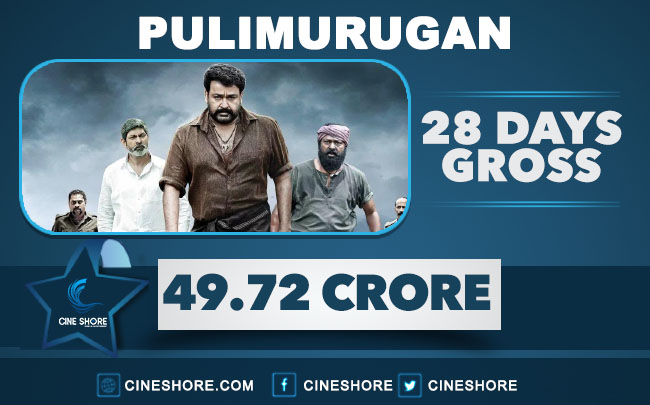 Pulimurugan 4 weeks [28 Days] Kerala Collection
The Pulimurugan hysteria is still on with steady figures, even after 25 days. This is the first time a movie showing this crazy trend in today's big release count era. That too Pulimurugan opened with the highest number of screens and shows which was more than 800. The previous highest Action Hero Biju being 590 shows played on day 1, Pulimurugan lead the pack with a big gap. The film after setting first day and first weekend record trended huge during the Pooja holidays and it was a cake walk first week record too for the movie.It then had to give away some of its shows to the new releases still having the potential to occupy the initial number of shows. The number of special shows and late night implicated how far the movie is going to finish its business. After the completion of 2 weeks the film stood tall with a gross of 33.76 Crore which it was the fourth highest all time grosser in the history of Malayalam Cinema. Now when the four week figures are being compiled Pulimurugan has grossed a jaw dropping 49.72 Crore at the Kerala ticket windows and has definitely gone past the 50 Crore mark on its 29th day making it the 1st ever movie to cross the untouched 50 Crore benchmark. The distributor share is also fast chasing the 25 Crore mark which is another feet as far as Malayalam movies are concerned. The film is showing lots more potential in the box office, looking at the current trend and a 60 Crore is well a sure shot mark from here. It has now become a tough task to predict how far the movie will go as it has broken all the norms from the very first day. With no big releases till Christmas period, Pulimurugan will continue its juggernaut for the next few weeks too and by then only we will get a clear idea where it will land.
Gross : 49.72 Crore [28 Days] [Kerala]
Verdict : Industry Hit.