Pulimurugan 14 Days Collection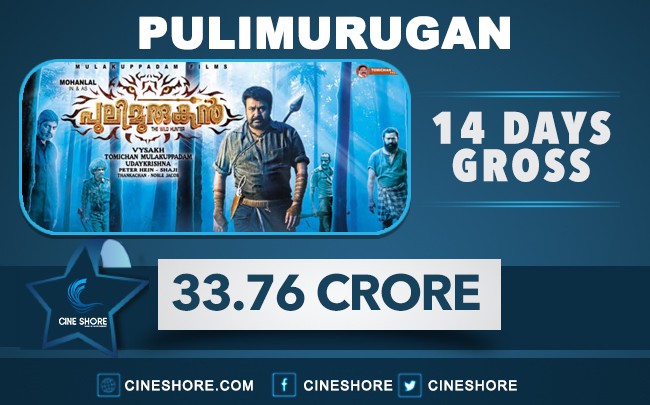 The latest sensation of Mohanlal and director Vysakh, Pulimurugan is breaking all sorts of records within its way. The film not only took huge opening, but is maintaining good crowd even in the second week. After opening with a record of 3.88 Cr on its 1st day it went on to mark a solid weekend and the holiday periods its got in the initial week became an ice on the cake. Not many mass films show this steady performance after initial weeks. But the inclusion of 'Puli' has it made a magnum opus and the rich production values has done the rest. When you have a star like Mohanlal, things would be even better and he has proved it with mass masala genre at every point of his career. Pulimurugan is the latest example for the fact.
Pulimurugan after the end if its second week has grossed an unbelievable 33.76 Cr at the ticket windows and with that the film has gone past many highest grossers of Malayalam. Now the only remaining films for Pulimurugan in the list are Prithviraj starrer Ennu Ninte Moideen, Nivin Pauly starrer Premam and Mohanlal's own crime drama Drishyam. A new industry hit already confirmed and how many more days it will take is the only question. The distributor share is fast approaching 16 Cr and is just few lakhs short of it. The film has showed strong performances in all three area's from Taravancore to Kochi to Malabar. Usually you see a not so great performance of Mass films at Central Kerala but the tiger factor has made it a feast for these audience too. It has also become the fastest 2 Cr grosser at Kochi multiplexes. Anyways now its just a matter of time for Pulimurugan to emerge as the new industry hit at Kerala box office and it will be a special one for Mohanlal to beat his own film to register the new record.
Gross : 33.76 Cr [14 Days] [Kerala]
Verdict : All Time Blockbuster.