Pretham 35 Days Collection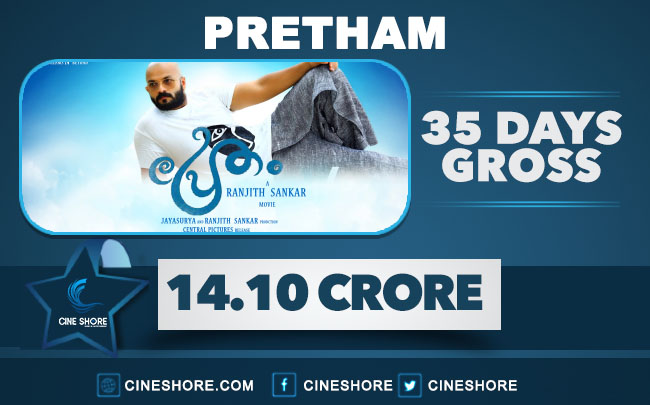 Pretham, which went on to do crazy business to everyone's surprise is finally coming its way to the end. The film, which went over to gross more than 8.5 Crore from 2 weeks has made a total gross of 14.10 Crore at the end of 35 days and that is excellent for a small budget film. Done for around 3.50 Crore including print and publicity has so far taken a share of 6.5 Crore which is a dream business target for a small film. Earlier it was Maheshinte Prathikaram which took a share, double its cost and now it's time for Pretham. Both the film are so far the most profitable movies of the year where Mahesh took more than 200% on its return of Investment, whereas Pretham is just short of that magical percentage. Nevertheless, Ranjith Shankar would be a happy man who's last film 'Su Su Sudhi Vathmeekam' again with Jayasuriya could only do average to above average business and the gross there has been the share here. Director Ranjith Shankar's movies despite getting decent reports always tends to do less business at the box office due to the lack of entertainment and only Pretham and Punyalan Agarbathis [which again starred Jayasuriya] have done notable business in the box office. The film is produced by both the actor and the director and they could just smile all the way to their bank counters. The film has done some business during the Onam vacations and the final gross would stand something above the current figure.
Gross : 14.10 Crore [Kerala]
Verdict :- Blockbuster.