Oppam 7 Days Collection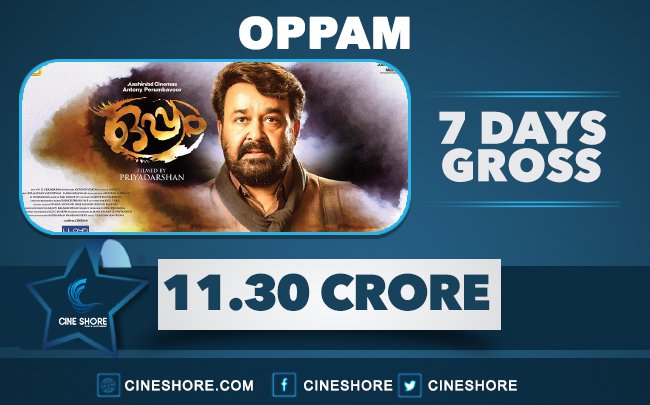 Mohanlal and Priyadarshan duo's Oppam looks a no stopping as it is utilizing the holidays very well. It had a good opening day and remained steady on day 2 also even though a working day. But the excellent jump came from third day followed by a superb Sunday. The four days gross of the movie has now come around 6.35 Crore, with a share around 3.03 Crore. This is huge despite the competition and pre – festival period. Usually movies go weak prior to the festival seasons, especially the Onam, but here a holiday for Eid falling on Monday has been a big blessing for the movie. With Onam following the Eid holidays it has been a dream slot for Oppam as it has grossed a whopping 11.30 Crore from its 1st week. With that the first week record for any Malayalam movie now belongs to Oppam that too with a big lead. The previous record holder was Premam which grossed a huge 10.40 Crore for last year summer. Now the record has been set with a 90 lakhs lead by Oppam and that is something. The difference came in the increased ticket rates at most places and additional multiplexes where as Premam is still the best in footfalls.
The distributor share for the movie is around 5.40 Crore and that is exceptional for a movie in its first week with these much competition. Now the only watch out is the coming Monday which will show the lifetime range of the movie. The response and occupancies by far shows that there won't be a big drop on Monday unless some miracle happens. Mohanlal and vacation season is a deadly combo provided the word of mouth in positive side and Oppam cements that fact once again. It was quiet an average Onam for Mohanlal last couple of times and Oppam is doing a Run Baby Run which came on 2012 Onam becoming a blockbuster. But the difference is Run Baby Run released on Thiruvonam day, but Oppam had been in business prior to Onamitself. The film is a perfect comeback for the director and hero who were criticized for poor selection of movies quiet a while and there wouldn't be any good answer like Oppam which has not only registered big numbers, but also pleased the audience and critics alike.
Gross : 11.30 Crore [Kerala]
Verdict :- Excellent Opening.