Oppam 16 Days Collection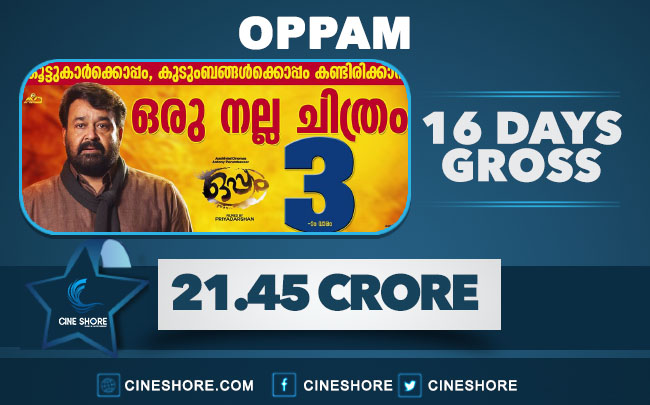 Oppam slowed down after the holiday season and that was expected for the film extra ordinary performance during then. It went on to become the highest ever 1st week grosser and was fastest to cross 10 Crore too. As the holiday periods were over by its 11th day the film showed a noticeable drop on Monday. Major centres were quiet, steady but the small stations brought the difference on Monday where it dropped big. This is normal for festive and non festive seasons as smaller stationstend to perform well during the festival weeks and drops after that unless there is mass attracting content or that great word of mouth.Oppam being a less friendly film with that section and the word forword just ranging from good to very good couldn't perform like the holidays in these stations. Nevertheless, smaller stations in Trivandrum, Kollam and Trissur districts were better as these are the best performing areas for Mohanlal films usually. The film has put a decent 3.40 Crore from last 5 days taking the total gross to 21.45 Crore and the distributor share is fast approaching the 10 Crore mark which is phenomenal in any yardstick. The film will now go close to 23 Crore or cross that by the end of this weekend and with that gross it will be equal with Twenty 20, before crossing films like Bangalore Days.
Oppam's major audience right now is the family crowd and that means the film will remain or go further down with the coming Monday and grow with the weekend. Again the evening and night shows should do better as family audience prefers these shows during the weekdays. In addition, it will have one more open weekend next week before the other biggies Pulimurugan, Thoppil Joppan etc arrives for Pooja holidays. It should be great for the movie, if it could survive well till then so that it cash in the Pooja holidays which has 5 or 6 holidays falling that week.
Gross : 21.45 Crore [Kerala]
Verdict :- Blockbuster.