Oozham Final Collection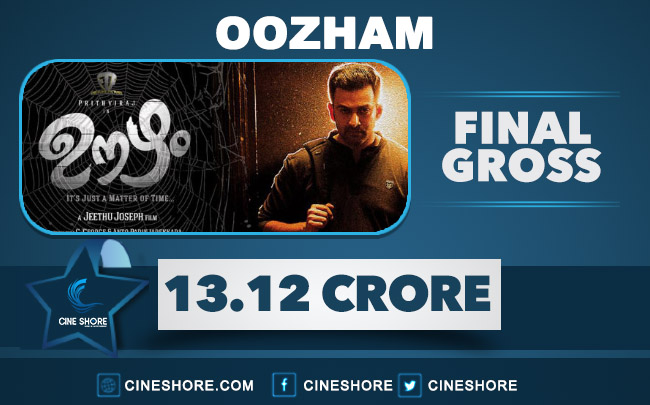 Prithviraj and Jeethu Josephs Oozham had a good amount of expectations from the audience and trade alike. Mostly it was because of Jeethu Joseph's come back into his favourite genre thriller after a film like 'Life Of Josootty'. Then it was the combination of Prithviraj and Jeethu Joseph after Memories which too made audience curious about the flick. With many favouring elements like this Oozham did get a good opening at the ticket windows. Though it was released opposite a biggie like 'Oppam', Oozham did get its share during the opening day.It was more of a balanced kind of opening with almost equal amountsof occupancies across the three territories, though it was Central Kerala which lead the pack. The film then had to go through the pre – Onam period where films get a bit weak until the holidays get going. Oozham on the other side showed a steady going through the weekend. Though a thriller, it gained decent family crowd, mainly due to the director's brand name and Prithviraj's current perception among the family audience after films like 'Ennu Ninte Moideen', 'Amar Akbar Anthony', 'Paavada' etc.
After the weekend, it was expected to perform even better during the holiday period, but the mixed word of mouth and excellent performance of opium during the Onam holidays resulted in a similar kind of business for 'Oozham'. With the film mostly targeting urban audience, it was quite average in rural centres, but the main centres itself was good enough for the movie to sail through its target business. At the end of the 11th day, i.e. after the second weekend, Oozham did close to 9.5 Crore and all it needed was a little more business to term as a hit. Thanks to its steady hold in main centres after the holiday period to itsadded another 3.64 until its final run to make the lifetime gross around 13.12 Crore. The distributor share of the movie has been just above 5.75 Crore and that was enough for the makers to enter the profit zone with decent amounts from ancillary rights as it was finished for a budget which was quite in the higher side.
Gross : 13.12 Crore [Final][Kerala]
Verdict : Hit.