Oozham 7 Days Collection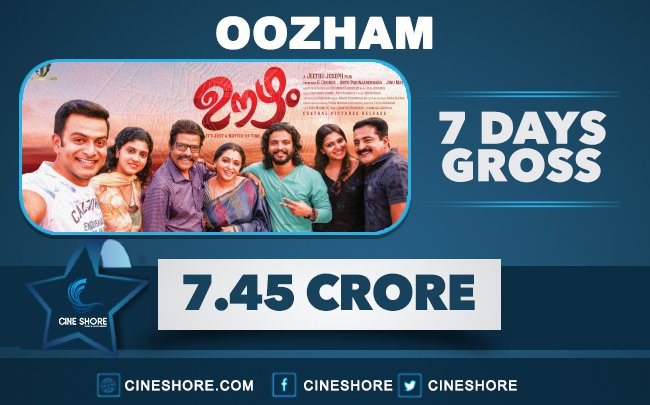 Oozham has showed some drop after the weekend finally and that was expected due to the mixed reports it received from the audience. The film was more or less steady over the weekend after getting a decent start on its opening day. During then, it performed very well in cities and made a decent total from Kochi multiplexes itself. As the film lacks in entertainment it isn't that good in rural centres where entertainment or great word of mouth is a must. But that was actually nullified by the above said major centres where it held well over the weekend. But as it entered the weekdays, it showed signs of the drop as it could do only above average business during the Eid holiday itself. Tuesday saw a further drop as it was the previous day to open and if you needs to survive this day, you either have to attract the young audience that much or need to have very good word of mouth like Oppam which held well on this day. Oozhamlacked in these factors and that has shown in the figures. Still, it has grossed a decent 7.45 Crore from its 1st week, with a 2.90 Crore from last 3 days. This might look a very good number, but it had 2 holidays in the form of Eid and Thiruvonam and that should have been a lot better. The huge stay of Oppam also dented any opportunities for Oozham to stay over, despite of its mixed word of mouth.
The distributor share has gone past 3.50 Crore and that is quite a decent figure for a thriller without great word of mouth. The film is way ahead in the opening when it is compared with the actor – director duo's previous outing 'Memories', but of course there is a big difference in the ticket pricings and potentiality here. Looking at the current trend, it has a chance to crash on Monday after the holiday periods are over and before that it has to utilize the maximum from the next 4 days including the weekend.
Gross : 7.45 Crore [Kerala]
Verdict :- Decent Opening.