Oozham 4 Days Collection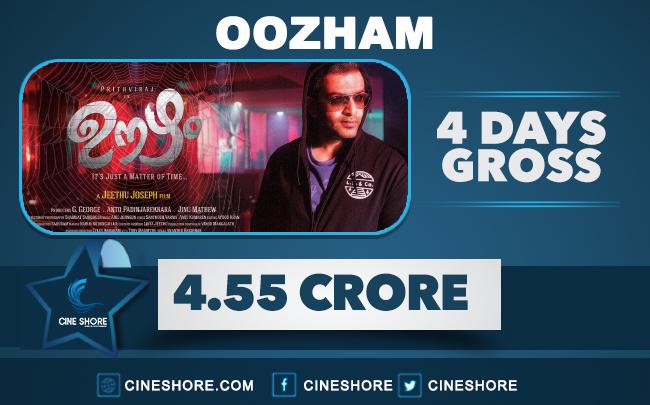 Oozham was more or less steady over the weekend after getting a decent start on its opening day. The film has performed very well in cities and has made a decent total from Kochi multiplexes it. As the film lacks in entertainment it isn't that good in rural centres where entertainment or great word of mouth is a must. But that is actually nullified by the above said major centres where it holds well so far. The word of mouth is ranging from average to decent and that has made sure that Oozham has sustained despite the domination from Oppam. It will continue its decent business today also as its a holiday and if then the film is going steady it can smoothly go past the second weekend too as the Onam holidays will be following in the mid week. All the films actually benefit from this rare season were two festivals are falling together. That means it can perform in Malabar area as well as the other two.
Meanwhile the film has grossed a decent total of 4.55 Crore from 4 days after the 1.25 Crore day 1. But there is a concern for the producers here as the growth is not in the desired levels onweekends. This is as a result of the mixed word of mouth and they are afraid that if Oppam wave can affect it in the coming days. Thedistributor share has gone past 2.15 and that is actually a fair total showing potential to stay on. The film is way ahead in the openingwhen it is compared with the actor – director duo's previous outing 'Memories'. With this trend, the film may cross 2 weeks gross of Memories is just 5 or 6 days. Now all eyes are on its performance over the weekdays,i.e., during the Onam holidays and if that remains steady, Oozham will be a safe venture.
Gross : 4.55 Crore [Kerala]
Verdict :- Good Opening.