TOP 10 TAMIL GROSSER IN KERALA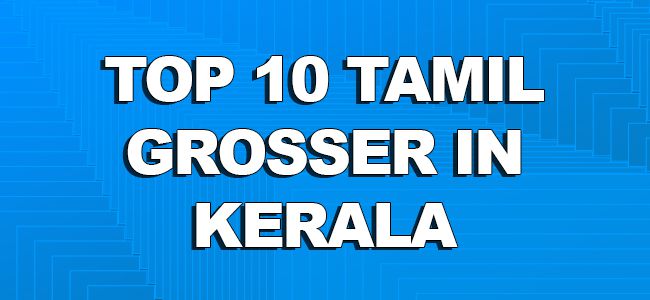 There wasn't much changes in Top 10 Tamil Kerala grossers until 2014 as it was more or less the same sans for a few films and the overall gross were with small difference for films like Sivaji, Thuppaki, Kaththi etc. But things have changed for Kerala Box Office with the rapid introduction of multiplexes and hikes in ticket rates. There are also many B and C classes which got upgraded in recent years and getting the simultaneous release permissions. All these has changed the business structure of Mollywood and there is a sudden jump in each and every films theatrical earnings. The same is the case of Tamil films as we can see a huge jump from previous businesses. That means the footfalls are more or less same, but the business has got expanded. The direct effect is there on buying prices too.
Meanwhile, here is the current top 10 Tamil grossers in Kerala which is lead by Shankar's 'I'.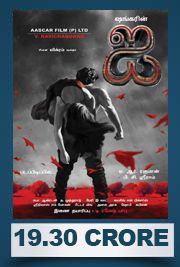 Cast : Vikram, Suresh Gopi, Amy Jackson.
Director : Shankar
Distributor : Global United Media.
Any Shankar films get humongous welcome in Kerala, which is more than any Star Hero's. Be it Anniyan, Sivaji, Endhiran. All of them ended as the biggest Tamil grossers of its times. 'I' too followed the trend as it too started breaking records from day 1. Even with mixed talk the film went on to become a smash hit bringing handsome profits to its buyers even after buying for record price. The inclusion of Suresh Gopi was just another icing on the cake for the film in the state.
Gross : 19.30 Crore
Verdict : Blockbuster
---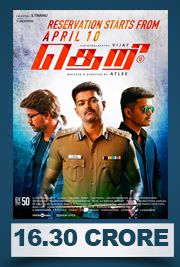 Cast : Vijay, Samantha, Amy Jackson
Director : Atlee Kumar
Distributor : Friday Films
If there is any Tamil actor who has performed consistently in Kerala box office, it would be definitely Vijay, who's movies have performed to a minimum extent regardless of what. The only exception in recent years was Puli which was a colossal disaster. When Vijay united with Atlee, who went into the list of sensible directors with his debut film itself, expectations went sky high. The film went on to break Vijay's highest grosser Thuppakki within the 1st week itself and broke past Endhiran to settle behind 'I'. It was mostly Vijays reach among the audience and the summer release which benefited this movie though the reports were mixed.
Gross : 16.30 Crore
Verdict : Blockbuster
---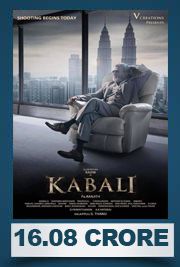 Cast : Rajinikanth, Radhika Apte, Dhansika
Director : PA Ranjith
Distributor : Aashirwad Cinemas
Probably the biggest, mightiest Rajni film in recent years post Endhiran. That was seen in the kind of business and the hype the film created. The film upon the release set an all time record opening and weekend before it dropped big due to mixed word of mouth. Kabali would be the film with weakest word of mouth among the top 10 grossers. Still it went on to settle behind Theri missing it by few lakhs. The film even after performing this excellent, incurred minor loss due to the exuberant price it was bought for, thus average.
Gross : 16.08 Crore
Verdict : Average
---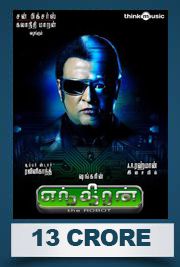 Cast : Rajinikanth, Aishwarya Rai
Director : Shankar
Distributor : Seven Arts International
Who can forget the Endhiran mania..? The magnum opus which not only did huge business all over, but also remained one of most ambitious work of Shankar. When Superstar was on board it just got bigger even. Just like any Shankar biggie, Endhiran went on to break all records set by Tamil films in Kerala with a big lead. It was a bumper for seven arts who bought the movie for a record price then. It was finally beat by Shankar's own 'I' in Kerala after remaining at No.1 spot for almost 5 years. There was a troll spread over internet that Sankar has won first prize in Kerala State Lotteries.
Gross : 13 Crore
Verdict : Blockbuster
---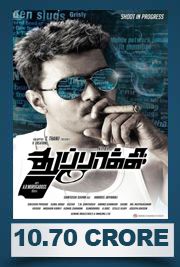 Cast : Vijay, Jayaram, Kajal Agarwal.
Director : A R Murugadoss
Distributor : Thameens Films
When two of the bankable people united, expectations weren't ordinary among film buffs. Thuppakki just exceeded it, if any making it a big money spinner. With that Vijay marked his first 10 crore gross in Kerala after Rajinikanth and finally it was blockbuster time for Vijay after Pokkiri. With Thuppakki, Murugadoss too got upgraded to the most sellable directors in Kerala after Shankar.
Gross : 10.70 Crore
Verdict : Blockbuster
---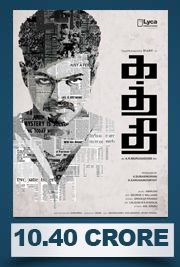 Cast : Vijay, Samantha
Director : A R Murugadoss
Distributor : Thameens Films.
Even before the Thuppakki fever got faded, Vijay and Murugadoss were once again back with one more winner, this time with more content and one more Vijay. Though, Kaththi couldnt recreate the hype of Thuppakki, the actor-director duo's combination was enough to draw audience to the theatres, ultimately crossing 10 crore, but settling just behind Thuppakki, which had an upper hand on word of mouth. Nevertheless, one more Blockbuster into Vijay's kitty.
Gross : 10.40 Crore
Verdict : Blockbuster
---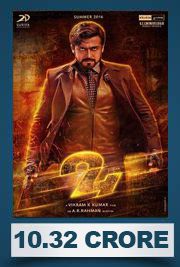 Cast : Suriya, Samantha
Director : Vikram Kumar
Distributor : Sopanam Entertainments.
If there is one star among current hero's who is always eager to combine experiments and commerce, it should be Suriya. When he came up with a Sci-Fi thriller with one of the talented directors, expectations hit the right notes and the film too. It was payback time for Suriya who faced a setback with his previous 2 films and he made that in style. Though high on experiment, the film ended up giving good profits to buyers, Sopanam Films.
Gross : 10.32 Crore
Verdict : Super Hit
---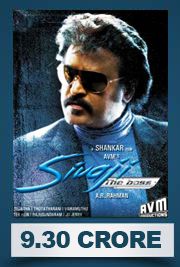 Cast : Rajinikanth, Shriya Saran
Director : Shankar
Distributor : Johny Sagariga.
Once again Superstar and Super Director, Sivaji too had an earth shattering opening. It was for the first time, two of the showmen of Indian Cinema got on board and what can you expect in terms of business. Johny Sagariga was able to get permission for a ticket hike in most of the centres and that too helped in the big business of Sivaji. Though it was expected to become the first ever 10 crore grosser in Kerala among Tamil films, it fell short of that benchmark, only after doing a terrific performance in the box office.
Gross : 9.30 Crore
Verdict : Blockbuster
---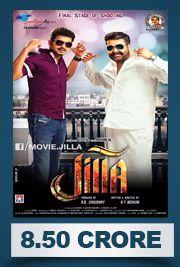 Cast : Vijay, Mohanlal, Kajal Agarwal
Director : RT Neason
Distributor : Aashirwad Cinemas.
It was time for a big collaboration and this time not an actor and a director, but 2 actors with huge following in Kerala land. Yes, Vijay and Mohanlal's combination created a huge hype in the state. But the fireworks had a very short span as the film couldn't meet the expectations. But the hype and both the stars reach among audience made sure that at least a respectable figure is attained mainly with the help of its initial days. Though it is there in the current top 10, it surely underperfromed to its potential which could have been taken the No.1 spot here provided a good content.
Gross : 8.50 Crore
Verdict : Hit
---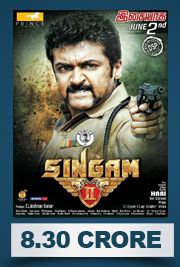 Cast : Suriya, Anushka, Hansika
Director : Hari
Distributor : Sri Kaleeswari Films
It was Singam which made Suriya a complete star to be watched out for in Kerala as till then he lacked the mass appeal. It was time for a sequel for the 2010 release and the result was same. A winner for Suriya, even though it didn't had the same kind of response as the original. Hari is another bankable director in Kerala as most of his films have done well here and he made sure that Singam 2 doesn't disappoint the fans and the trade. Come 2016 end we are up for the super cop for one more time.
Gross : 8.30 Crore
Verdict : Super Hit
---
N.B : There is one movie missing the list though one of the big grossers in Kerala among Non- Malayalam films. It is none other than S.S Rajamouli's magnum opus Baahubali which did a fantastic business of 13.30 Cr, which is just above Endhiran. But we haven't listed it above as this is just the Tamil films, whereas Baahubali's final gross includes Tamil version, Malayalam dub version and the limited release of its Telugu version in multiplex for initial weekend. Still it would be an injustice to not mention about the movie which surprised one and all.